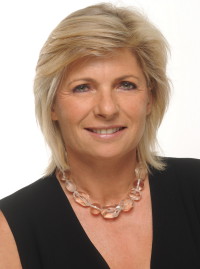 For over twenty years, the ESCP Europe Executive MBA has trained experienced managers who wish to develop the international aspect of their leadership and expertise. Valérie Madon, Director of the Executive MBA Programme, answers some questions.
Topformation: Could you describe the Executive MBA?
Valérie Madon. Ranked second in the world in 2014 by the Financial Times for the international orientation of its classes and career progression (a 70% average salary increase), the Executive MBA is the flagship programme of the ESCP Europe continuous training department.
It offers innovative, intercultural management training on the 5 ESCP Europe campuses (Paris, London, Berlin, Madrid and Turin) and in 5 non-European countries. 6 tracks are available: Paris, Berlin, London, Turin, Madrid, Beirut and the "itinerant" track (on all 5 campuses).
The duration of the programme is 18 to 30 months part-time; it consists of 9 core course modules, 9 elective modules, 5 one-week international seminars and an international consulting project (ICP - International Consulting Project).
The participants recruited are high-potential managers with at least 5 years' experience in management positions and who wish to develop their leadership and share their experience. The average age is 37 and their profiles are highly diverse (the class of 2016 consists of 81 participants from 27 different countries, of whom a third are French and 25% female, from varied professional sectors).
How is the MBA administrative team organised?
The Executive MBA programme team consists of 20 people on the 5 ESCP Europe campuses. I am the Director of the Programme and Frédéric Fréry is the Academic Director of the Programme and also Professor of Strategy and head of the KPMG Governance, Strategy, Risks and Performance Chair.
How do you recruit participants?
Candidates must complete a dossier which includes information on their previous experience, career plans and why they wish to participate. They are supported throughout the admission process by recruitment managers who see them regularly and guide them to ascertain their skills and prepare them for the interview.
The latter takes place before a panel of at least three people: the Director or the Academic Director, an Executive MBA professor and a graduate of the programme.
How do participants finance the programme?
Some participants finance all the tuition fees themselves; others get partial or total financial support from their companies and some are supported by accredited fund collecting and distributing agencies (OPCA).
The Executive MBA offers over 7 grants of €10,000 for women, NGO workers, entrepreneurs, emerging-country nationals and participants from SMEs.
What are the main strengths of the Executive MBA?
Our Executive MBA is unique for its customisable programme held on the five European ESCP Europe campuses.
It has stood out on the international stage for over 20 years: it is notably ranked 16th worldwide by the Financial Times and 2nd both for its international orientation and its career progression, with an average 70% increase in salary.
With its small classes (81 participants divided into several tracks for the class of 2016) and diverse profiles, the programme promotes interaction with the faculty and between participants, founding its innovative teaching on a collaborative approach and deeply human values.
Finally, group work such as the international consulting projects (ICP) over a 12-month period gives participants a real experience of multicultural management of strategic projects.
What are your main challenges?
The Executive MBA sector is highly competitive on the international stage. Therefore, our Executive MBA must continue to innovate to maintain its attractiveness.
Furthermore, we are working on increasing the number of women on the programme. Today, 25% of our participants are female. This is a reasonable proportion, but we wish to further increase it in order ensure more women reach better positions on company boards of directors.
See also:
Interview with Nicolas Ethevenin, Executive MBA participant (in English)
All the articles on ESCP Europe (in French)